Rick and Mary NurrieStearns
Daily Meditations Now Available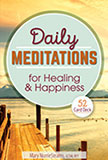 Daily Meditations
Transform your life with meditations for healing and happiness. This unique card deck gives you 52 simple meditations to connect you to the present moment, cultivate happiness, take loving care of your emotions, enhance your wellbeing, and develop gratitude. Select a card each day for a relaxing and renewing meditation.
Read More...
Yoga Mind
Peaceful Mind

If you want to practice the healing, contemplative practices of yoga, this book is for you. Yoga Mind, Peaceful Mind has 160 powerful, daily meditations that are filled with thoughtful, touching insights. Each of the meditations provides an inspirational quote, a discussion of teachings and instructions from the yoga tradition, and affirmations to remember and live by every day. The simple practices in this book will help you achieve true peace of mind.
Read More...
Yoga for Emotional Trauma
Yoga for Anxiety

This book offers meditations, mindfulness practices, self-inquiry exercises, and yoga poses that soothe your anxious feelings, open your heart and develop your mental clarity restoring your sense of innate goodness and increasing your contentment in life.
Read More...