Transformational Audios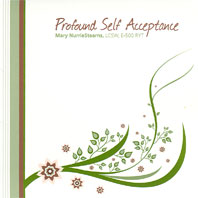 Profound Self Acceptance
A teaching about restoring our sense of innate worthiness. This tape will touch your heart, let you know you are much more than you think you are and show you how to forge a loving, healing relationship with yourself. It will inform and inspire you as it guides you in self healing practices that restore an experience of yourself as worthy and lovable. It will show you how to become compassionate with yourself and experience self love.
A conversation with
Mary NurrieStearns
by Penny Calcina
You know you are truly ready when you realize that it is too painful not to, then you begin. You embark on an extraordinary voyage, the journey into the inner life. You discover what it is like to be alive, really alive. You realize that there is no where to go! When you come home to who you truly are, your heart opens. Mary and Rick NurrieStearns host two meditation retreats and a yoga retreat each year. The daily retreat schedule includes a balanced schedule of meditation, inner reflection, easy yoga movement, transformative practices, group meetings and deep rest. This combination of activities gently uncovers the inner knowledge that you are already whole. This discovery taps into an internal wellspring of happiness and inner peace. Their newly released book, Yoga for Anxiety.
Help for when you are really anxious
This is a follow-along audio to use when you are really anxious. Comforting, it guides you through yoga practices for anxiety and is sure to soothe your body and mind. Designed to use when you are upset, it is also wonderful to practice daily so that you learn to relax your body, deepen your breath and enjoy soothing your mind with compassionate self talk. Listen to this audio to reconnect with your quiet essence and experience inner peace.
Transform anxiety into happiness
This audio gives you yoga practices that help you transform anxiety and worry into peace and happiness. Heal yourself by first becoming aware of how your words affect you, then by focusing on breathing to release the grip of distressing thoughts and next by learning to replace anxiety producing thoughts with life affirming thoughts. Do so for your well-being, to calm your body and mind. As you know, when you are relaxed and calm, you feel more in touch with your inner self, which is the source of your happiness.
Transform Anxiety