Loving What Is
Meditation & Yoga Retreat

Meditation, Gentle Yoga
Art Therapy, Mindfulness Practice,
Spiritual Inquiry
Take time away from the demands of everyday life.
Spend time with like-minded people.
Turn inward and focus on spirit.
Connect to inner guidance.
Listen deeply and reflect.
Find Clarity.
Come closer to who you really are.
Awaken to your True Self.
We host two retreats each year at
St. Crispin's Retreat Center.
Convenient to Oklahoma City and Tulsa.
Our next retreats will be:
March 30 - April 2, 2023
November 2 - 5, 2023

This retreat is an immersion in inner listening and heartfelt reflection. We will meditate to learn to witness thoughts and quiet our minds. We will practice compassionate ways to take care of our tender emotions. We will practice yoga to relax and heal our bodies.
The days follow a balanced schedule of chanting, meditation, yoga, brief teachings followed by art therapy and group discussions.  We maintain social silence outside of group meetings, with optional social time after lunch. Attendees quickly adjust to silence and appreciate the restful break from everyday ego and small talk.
The setting is welcoming, comfortable, and idyllic, with time after lunch to hike around lakes and take in the sky and oak-covered hills. Hearty, delicious meals are provided along with healthy snacks, tea and coffee.
The environment is safe and non-judgmental, with a non-dogmatic approach that integrates Eastern Spiritual Practices, Western Brain Science, and Supportive Community. Rick and Mary lead gently with warmth, joy, intelligence, respect, and deep experiential knowledge.
We have combined meditation, yoga and contemplative practices to create a powerful spiritual and psychological container for connecting into the inner wellspring of true happiness and peace.
No prior experience of meditation, yoga, or art is required. The retreats are non-denominational and open to all from any faith or no faith.
4 Day Retreat (Thursday-Sunday)
March 30 - April 2, 2023
Fee includes lodging, meals, and tuition.


Early Registration (Before Jan 15)
Per Person Double Occupancy: $465
Per Person Private Room: $525

Late Registration (After Jan 15)
Per Person Double Occupancy: $495
Per Person Private Room: $555


Registration Closes March 15, 2023
Preparing for Retreat
Retreat is a sacred time of rest, reflection, listening and learning. To ensure rest, optimal learning and comfort we follow a simple schedule of meditation, yoga, group meetings and rest. Each retreat is built around a theme, such as profound self-acceptance, living in the present moment and cultivating happiness.
During the twice daily group meetings we explore aspects of the retreat theme. All of the themes point toward the sacred nature of life. During retreat we also teach skills for emotional resilience, neuroscience as it pertains to healing and transformation and practices that encourage inner guidance.
Nothing is needed to prepare, your desire to be in retreat and willingness to participate in ways that feel right for you is all that is needed. At the very least, time away from your routine allows you to rest and rejuvenate. There is also the possibility that time in retreat is profoundly healing and revealing.
Mindfulness Practice
We meditate, consciously breathe, move our bodies with gentle yoga and practice mindful walking and eating. Mindfulness practice teaches us to witness our thoughts (rather than be ensnared by them), become increasingly aware of inner stillness (rather than it being drowned out by thoughts), and increases our awareness of present moment experience (rather than being distracted by thoughts) by focusing on breathing in and out, walking, eating, and doing simple yoga movements.
Self Inquiry
Here we look into the personality, the person we generally consider ourselves to be. We examine both the patterns that decrease our ability to tune into the inner essence (True Self) and the stories that comprise our self-identity (False Self), who we usually think that we are. Examining stories of identity frees us from the grips of early conditioning that mold our experience of ourselves and the world around us. The practice of inquiry is done through teachings, journaling and group discussions during the meetings.
Silence
This retreat will be held in social silence, with the exception of visiting time after lunch each day. We are holding the intention to create sacred space as a group.
The retreat seeks to be a place of refuge, reflection, and peace. We ask that participants be respectful of the contemplative atmosphere and be mindful of cell phone use and the potential for disturbing others.
Accommodations
St. Crispin's Retreat Center is located on 400 acres in the rolling, oak-covered hills of Seminole County within easy driving distance of Oklahoma City and Tulsa. There are quiet hiking trails and two lakes that convey a felt sense of peacefulness, stillness and serenity.
The retreat center lodge overlooks a tranquil lake surrounded by native oak-covered hills. The facility is a modern conference center with hotel style rooms. Each room has two twin beds and a private bathroom.
What To Bring
An afghan, shawl or light blanket to wrap up in during periods of prayer, meditation or contemplation.
Walking shoes, so that you can enjoy the beautiful property.
A notebook and ink pen for journal writing.
A meditation cushion or bench if you have one.
For the gentle yoga, bring your yoga mat, yoga props, block and strap−if you have them. There will be a few extra yoga mats and props available.
What Not to Bring

Please leave books, computer, music, business, things to do, alcohol, recreational drugs, etc. at home so that you can truly rest and go inward. Please do not bring candles or incense to burn or scented products. If you travel with a cell phone, we encourage you to refrain from using it while at retreat.
Retreat Schedule

The retreat begins with registration on Thursday from 1:30 pm to 3 pm.
The schedule for the retreat program:
Thursday, 3:30 pm to 8:30 pm.
Friday & Saturday, 6:30 am to 8:30 pm.
Sunday, 6:30 am to 1 pm.
Because the schedule is a vital part of the retreat container, we ask that all attendees arrive on time and plan to stay through the end of the retreat.
The retreat ends at 1 pm on Sunday, and lunch is included on that day.
Dress

To make your retreat most enjoyable, please bring comfortable casual clothing to wear. Yoga clothes, shorts and tee shirts are fine. Plan to dress in layers and bring a sweater or sweatshirt so that your body temperature is just right for you. Be sure to bring clothes that are appropriate for walking or hiking so you can enjoy the trails and property.
Fragrance

For the sake of those who are highly sensitive to fragrance, please do not use any perfume or cologne, and please use only unscented, fragrance-free personal hygiene products. Note that many products labeled "natural" or "organic" do not contain fragrance.
Food
If you have special dietary needs, we encourage you to bring any supplemental items you may need. There is a refrigerator and a full kitchen available for guest use.
There are water, tea and coffee stations in the lounge; available 24 hours a day. Drinks may be brought to bedrooms, but cups and glasses should be returned to the service kitchen after use.

No food is permitted in the meeting rooms, and only drinks with lids are allowed.

Food Sensitivity

Many meals have dairy, wheat and/or gluten. The retreat center is set up to provide meals to groups, not to individuals. Menus are based on what is in season and in the market. Because of this, they are not able to accommodate individual needs. But, because there are many people with food restrictions, they try to offer a simple substitute for the meals.

If a retreatant has a severe allergy, please let our staff know before the retreat so the kitchen can make plans. Also, make sure to bring your EpiPen or an equivalent medicine. The kitchen asks us to let anyone with allergies know that they cannot guarantee that certain foods have not been contaminated before arriving on site.

Smoking

There are designated smoking areas outside the buildings. No smoking is permitted in the buildings or anywhere outside other than in the designated area.
Scholarship
We offer a limited number of partial work scholarships to retreats for those who need financial assistance.
Cancellation Policy

St. Crispin's retreat center requires that we guarantee the number of people who will be in attendance of our retreat 30 days prior to the beginning of the retreat.
Our retreats are limited in size to facilitate deep inner work. When our allocated rooms are sold, we turn away applicants.
For individuals canceling their attendance for an upcoming retreat the cancellation fees are as follows:
Prior to 90 days before the retreat: $45 fee.
90-32 days prior to the retreat: $65 fee.
Less than 32 days prior to the retreat: no refund.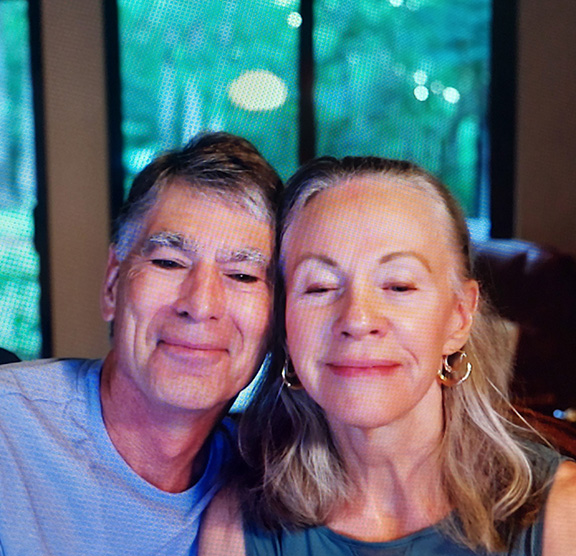 Retreat leaders
In the last eighteen years we have facilitated two to four retreats a year. Our retreat teaching has evolved and deepened over the years and reflects intense study, practice and personal healing.
We utilize spiritual practices from the Wisdom Traditions. We draw from Buddhist, Christian, Sufi, Non-Dual and Yoga practices along with Energy Psychology, neuroscience and evolutionary psychology practices.

Mary's yoga expertise has expanded to include yoga therapy and kundalini yoga and over four thousand hours of teaching. We have trained in energy psychology practices including Emotional Freedom Technique and authored four books on yoga and mindfulness practices for psychological healing.

"When you become really quiet, you encounter a profound stillness deep within that reveals the essence of who you truly are."
Rick NurrieStearns, has been immersed in consciousness studies for more than four decades and is a long-time student of Zen Master Thich Nhat Hanh. For over twenty years he was involved in publishing spiritual and transformational books and magazines. He was the publisher of the magazines "Lotus: Journal for Personal Transformation" and "Personal Transformation," co-editor of the book "Soulful Living," co-author of "Yoga for Anxiety," "Yoga for Emotional Trauma" and "Yoga Mind, Peaceful Mind." Along with his wife Mary, he leads transformational meditation retreats.
He is nourished by silence, loves the wilderness and simple living.

"What has happened in your past is not who you are. The truth of who you are is discovered anew with every heartfelt breath."
Mary NurrieStearns, has worked for over four decades as a psychotherapist and three decades as a yoga teacher/practitioner. She is author of numerous articles on psycho-spiritual growth, author of "Healing Depression, Anxiety and Unworthiness", co-author of "Yoga for Anxiety," "Yoga for Emotional Trauma", "Yoga Mind, Peaceful Mind" and co-editor of "Soulful Living". Former editor of "Personal Transformation" magazine, she has produced transformational audios and video's on the healing practices of compassion, yoga and meditation. She has presented seminars across the United States and co-leads, with her husband, transformational meditation and yoga retreats. A long-time student of Zen Master Thich Nhat Hanh, she credits the meditative practices of yoga with profound healing.
A quiet person at heart, she lives in a wooded area near Tulsa with her husband and pets, amidst the animals of the forest.